~Shell wreath with burlap: rustic and beautiful
~Sea glass still life using large shell as a bowl
~Shells over hooks (
DIY by mounting with 3M Command Strips or hotglue)
~Tinted mason jar with sand and beach treasures
All of this loveliness is from the amazing portfolio of stylist Jessica Thomas whom I found via House of Turquoise. Now, I'd be fibbing if I said I recognized her work other than it being circulated on Pinterest, but it's a stunning collection. There's so much to admire artistically and to learn from her that can be applied in my own home and photography.
Now how about these for some beautiful ocean colors? Hubby would not put up with any of those grays having served and deployed on a couple of ships, but they make nice neutrals to work with the aquas.
For more on turquoise and gray, take a look at House of Turquoise's post on this color combo. I love the colors in this room, and I think my next sofa is going to need to be gray. We can't have white sofas, because Fridays=pizza and movies in the living room on the sofas. Well, OK, I confess, we don't use our dining table except for special occasions. We're a casual bunch!
Now here's MY inspiration room (click for a home tour) : the direction I want to take the living room, or I thought it was until I laid eyes on that first room...
And this is much closer to my reality. I have this couch, but it's older; has boring, dark green and brown pillows; and no blue in the room whatsoever. I do, however, have a wall of windows bigger than this room's, so, as my daughter says, I win! Pillows are easier to change than windows.
Speaking of pillows, here are some inspiration pieces. I just can't part with the $70-$100 per pillow, but I can window shop.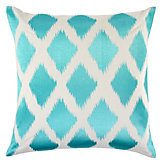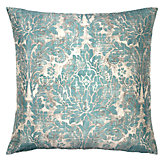 Guess I really need to get my sewing machine serviced. Eh! Who am I kidding? This is why I'm blogging, because point and click decorating takes much less time, energy, and money. This is about my Beach Cottage Dreams after all, not my reality. My reality is that sewing pillows is about as high on my priority list currently as alphabetizing the contents of my refrigerator. (And we're avoiding turquoise & gray in there unless I get new dishes.)
So I went on a little search for dishes and found some at Target for $39.99.
Kohls has Bobby Flay turquoise serving pieces on sale, but I like this bowl marked down half price to $19.99
Kohl's has several dinnerware sets in shades of blue, and in spite of my love of aqua and turquoise, I am partial to the Blue Willow just like my grandma had. I have a few of her serving pieces but didn't get any of the dinnerware.
I happen to be in the market for dishes, because they don't require handcrafting like pillows. Why do pillows require handcrafting? The short answer is I'm anal and I'm cheap fiscally responsible. I don't like paying so much for someone else to sew little squares of fabric. You know how many yards of fabric I can get for $30? I can cover a bunch of pillows for that money, but I don't because sewing takes time I don't have, and my machine needs serviced...again. Thus, I will buy dishes or at least start my shopping. And I will undoubtedly stalk past the pillows and denounce them all in the name of saving the earth by not tossing out the perfectly good, but boring, pillows in my living room. Someday, not yet a scheduled item in my planner, I will recover those drab, green pillows.